Dümmen Orange wins multiple awards at Proflora, Expoplantas and SAF
Over the past few months, Dümmen Orange has participated in multiple events with their LATAM team, showcasing the quality of their varieties and how their genetics drive the success of their customers.
"Tessa Lavender," a beautiful Lavender statice, won Grand Champion at Proflora's varieties contest in 2023, alongside Colombian growers from La Plazoleta.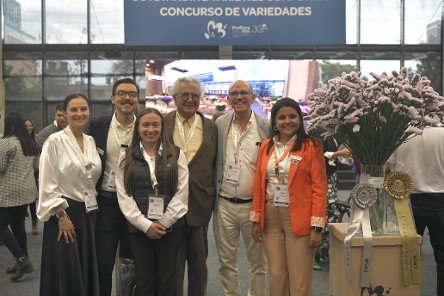 Photo from left to right: Plazoleta: Catalina Guaqueneme, Pablo Bazzani, and Francisco Bazzani - Asocolflores: Carolina Pantoja - Dümmen Orange: Juan Camilo Hoyos and Wendy Ladino with the variety "Tessa Lavender."
"Lamira" the big and stunning purple cut mum, secured the First place in the Chrysanthemum category at Proflora 2023, along with Colombian growers Flores del Oriente, and it received the Blue ribbon at the SAF varieties competition.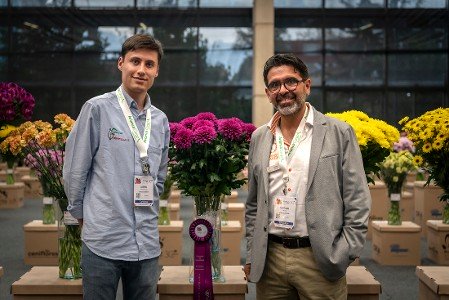 Photo from left to right: Sebastian Patiño from Flores del Oriente, "Lamira" variety, and Gustavo Garces from Dümmen Orange.
The variety "77188" won First place on the Chrysanthemum category for breeders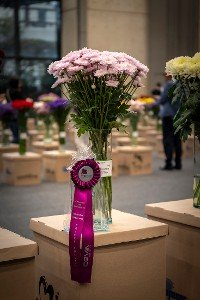 - At Expoplantas Colombia 2023, "Red Symphony," the unique potted Calla, won First Place title in collaboration with L&G growers in the breeders category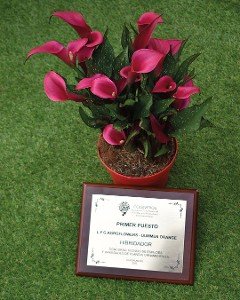 Other prices:
Proflora
3rd Place Carnation standard "Lucy" by Flores Funza
SAF 2023
Best in Class Carnation: "Novia" by Ayura.
Red Ribbon Chrysanthemum: "Champagne" by Esmeralda Farms.
If you want to know more about this winning varieties please contact the regional sales and marketing Dümmen Orange team.